Recognized as one of the Most Influential People in the Accounting Profession
Accounting Today recently released its list of Top 100 Most Influential People in the accounting profession, and two OSCPA members – Rita Keller, president of Keller Advisors, and Gale Crosley, CPA, CGMA, president of Crosley + Company – are featured.
Besides Keller and Crosley, the list includes recognizable names like Ken Bishop, president and CEO of NASBA, Lynne Doughtie, chairman and CEO of KPMG, Cathy Engelbert, CEO of Deloitte, Barry Melancon, president and CEO of AICPA, Sen. Mitch McConnell, R-Ky., Steven Mnuchin, U.S. Treasury Secretary, Rep. Paul Ryan, R-Wis., and President Donald Trump.
Rita Keller, "I am very proud of the fact that I have been repeatedly named each year since 2005," who is originally from New Paris and now lives in Beavercreek, where she helps professionals across the country manage accounting firms.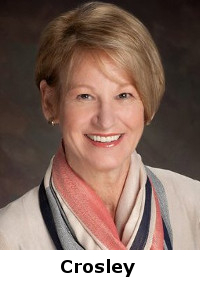 Crosley, who has consulted for dozens of firms both domestic and international, also has been featured on the list since 2005 and agreed it is an honor to be among such hardworking and smart individuals who are making big strides in the profession.
"You always do your best and if the awards come, that's wonderful!" said Crosley, who now lives in Atlanta, but is originally from Akron. "To be on that list with so many other notables, it's a wonderful thing. In my mind, it's a public recognition of the work that I'm doing and it's also thrilling for my friends and colleagues to be included on the list."
Crosley is licensed in Ohio and Georgia, a member of the AICPA, The Ohio Society of CPAs and Georgia Society of CPAs, as well as the Editorial Advisory Board of the Journal of Accountancy.
Keller, who writes a daily blog at ritakeller.com, is a member of the AICPA, The Ohio Society of CPAs and the Firm Management Association and is a contributing author to the AICPA MAP Handbook.
"One of the things that thrilled me most, back in 2005, was the fact that there were very few women on the list … I was especially proud of that aspect of making (it)," said Keller. "Now there are so many women – we've come a long way!"
Both women have spoken at countless conferences across the country and have been recognized on other prestigious industry lists. Keller was included on the Most Powerful Women in Accounting by CPA Practice Advisors while Crosley was named to the Most Recommended Consultants in the Inside Public Accounting Best of the Best. They both have been included on Accounting Today's Top 100 Most Influential People 12 times since 2005.
"I've always been cognizant of being the kind of role model I want to be for young women," said Crosley.
Keller added, "I have always believed in sharing my knowledge and experiences. My motto is: Be kind; help others. If you work hard, success will follow."
You can view others on the list and see the methodology behind the report here.